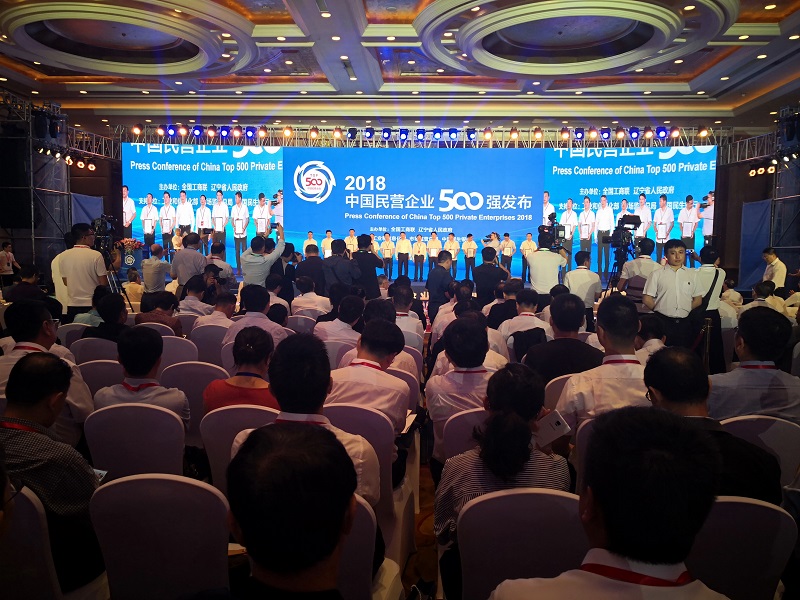 On August 29, the list of "Top 500 Private Enterprises in China in 2018" and "Top 500 Private Manufacturing Industry in China in 2018" of the All-China Federation of Industry and Commerce was unveiled in Shenyang, Liaoning Province.
Huang Rong, Vice President of the All-China Federation of Industry and Commerce, said at the release meeting that compared with last year, the list of the top 500 private enterprises has changed considerably, with 104 new enterprises entering the list. Affected by this, the entry threshold of the top 500 private enterprises continued to grow to 15.684 billion yuan, the entry threshold of the top 500 private enterprises in manufacturing industry reached 7.465 billion yuan, and the entry threshold of the top 100 private enterprises in service industry reached 21.511 billion yuan, and the number of super-large enterprises increased further.
In recent years, Ningxia Yuanmanganese Industry Group insists on taking manganese as its main industry and building a century-old enterprise as its development goal, and vigorously develops circular economy. After many reforms and upgrades, the industrial structure is more reasonable, the total economic volume is increasing, the comprehensive strength and market competitiveness are increasing, and the development pattern of "taking the real economy as the foundation, international trade as the driving force, and strategic emerging industries as the lead" has been constructed. Tianyuan Manganese Industry is the world's largest electrolytic metal manganese production enterprise, has become a professional, intensive, international large-scale enterprise group. In the process of continuous development and expansion, in accordance with the requirements of "three simultaneous" construction of national projects, while increasing investment in environmental protection infrastructure construction and improving the level of environmental governance in an all-round way, the comprehensive treatment and recycling of "three wastes" have achieved remarkable achievements, and realized the recycling of wastewater without outflow, emission of exhaust gas treatment up to the standard, and harmless treatment of waste residue. The goal of Bao. Tianyuan manganese Group actively responded to the national "one belt and one road" initiative, successfully acquired joint mining (CML) company, and had its own high-grade mine in Australia and Garner.
It is understood that Huawei Investment Holding Co., Ltd., Suning Holding Group and Zhengwei International Group Co., Ltd. are among the top three privately owned enterprises in China this year. In 2017, 61 enterprises with total assets exceeding 100 billion yuan, 11 more than 2016. Hengda Group Co., Ltd. ranks first in total assets with the scale of 1761.752 billion yuan. The list of the top 500 private enterprises in China is based on the survey of private enterprises of the upper scale and is ranked in descending order according to business income. It has been released for nine consecutive years since 2010. In the past nine years, Tianyuan Manganese Group has been selected for seven consecutive years. (Liu Dan Bai An Xin)